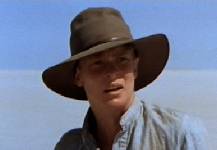 Scene One: An Argument in the Desert
Archie: Can you ride Frank?
Frank: Yeah, why?
Archie: Just wondering why you didn't try for the lighthorse.
Frank: Didn't want to.
Archie: What are you going to join, the infantry?
Frank: I'm not joining anything.
Archie: But you've gotta be in it.
Frank: Don't have to if you don't want to.
Archie: You gotta be.
Frank: No I don't, it's a free country or haven't you heard.
Archie: I'd be ashamed of myself if I didn't fight.
Frank: That only proves one thing, that you and I are different, let's drop it, eh?